Many senior citizens face various daily struggles because overtime age brings about vulnerabilities. One major obstacle confronting the elderly is acquiring the medicines, and medical supplies needed to survive. Healthcare providers and organizations can remove the burden for their older members, by offering them mail order catalogs featuring products for convenient home delivery.
Some of the advantages of your business adding a Mail Order OTC Catalog Program to senior citiz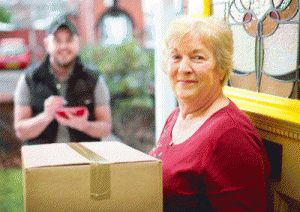 en's residences include:
* Not needing to go out in terrible weather – No one likes being out in bad weather and for those who are older, it could increase their chances for getting into an accident.
* It is easier, for those who are really ill – A senior attempting to pick up medicines and medical supplies, when they are extremely sick, can make them feel overwhelmed as well as unfocused.
* It helps the elderly people who cannot drive or do not have transportation – Some elderly people do not have the motor skills needed to drive without being involved in a collision. Some in this group have relinquished their vehicles because of their waning abilities, and must depend on others to take them where they need to go.
* It aids those who lack transportation in rural areas – For those senior citizens living in an area that is not accessible, by even a bus line, it is a problem for them to obtain the medical items they require.
As you can see, getting what is needed for their overall health can be a conundrum for the elderly. That is why our Over The Counter Catalog Program will deliver what your client's need with our extensive medical merchandise from diabetic and medicine cabinet supplies to pain relief products as well as ointments and antiseptics.
Please do not hesitate to contact us at OTC Benefit Solutions; we can assist healthcare organizations and businesses in building a customized OTC Benefit Program for your senior members as well as for any other customers who might desire having this quality service extended to them.
Written by Augusta J via WriterAccess
Benefits of Home Delivery